THE DIFFERENT TYPES OF BABY GATES
Once your little on has gained the mobility to go on little adventures around your home, it's time to understand the importance of installing baby gates.
The right type of baby gates will protect your toddler from falling down stairs and entering dangerous areas of your home. Baby gates act as barriers between your adventurous toddler and places such as kitchens where sharp and hot dangers exist, and are also versatile enough to isolate pets at times when your little one or guests require some pet-free time.
At HazardFreeHomes.com, we know how frantic life can get when kids become mobile, and that is why we have provided information on the different types of baby gates available. Through our own research, we have collated the different type of baby gates and the purposes that they suit for your home.
We want to give the information that will help you choose the right baby gates for your needs.
So the question comes down to this – What type of baby gate should you buy?
There are 3 different types of baby gates available for your home, these are –
pressure-mounted baby gates
hardware-mounted baby gates
freestanding baby gates
Below we give an outline of the uses for each, the materials used for baby gates and some FAQs to round of the post.
---
TYPES OF BABY GATES
---
Pressure-mounted baby gates
Pressure-mounted baby gates are simple to install, as no screws, hammers or drills are needed for installation.
The baby gate is held in place through tension created between a spring rod and two walls. This particular kind of gate is usually less expensive than a hardware-mounted gate, and are available in many different designs and colors. Because of their versatility and ease of installation, they are a popular choice among parents.
The most usual complaint about these baby gates is that there is the possibility that they can fall over if enough pressure is applied. That's annoying at best, and a safety hazard for children, adults and pets at worst. Pressure-mounted gates must be installed between walls that are completely flat, they will not work on rounded corners or walls at odd angles.
See an example of a pressure-mounted baby gate listed on Amazon below.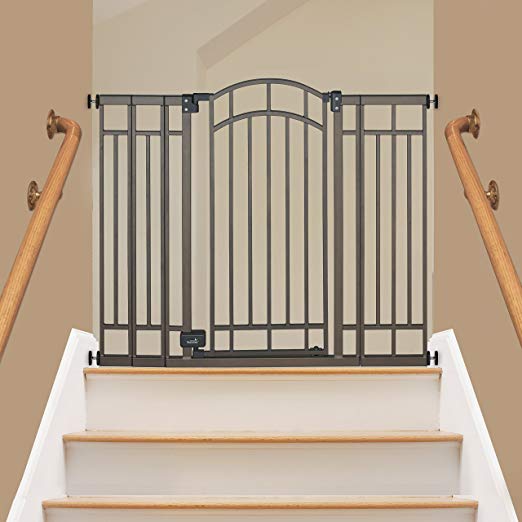 EXTRA TALL PRESSURE MOUNTED BABY GATE
DESCRIPTION:
WHY WE LIKE THEM:
Dual locking, auto-close walk through door.
Simple to install and suitable for stairs and doorways.
Option for pressure-mounting or hardware mounting.
One of the best reviewed and selling baby gates on Amazon.
BUY ON AMAZON
VIEW MORE BABY GATES
---
HARDWARE-MOUNTED BABY GATES
Hardware-mounted baby gates offer more security than the above mentioned pressure-mounted baby-gates, but come with their own drawbacks.
With hardware-mounted baby gates, you install the gate by screwing the gate itself directly into the woodwork of your home through brackets. The surface that the gate is screwed into could be a door frame, wall, or stair banister. The hardware holds the gate securely in place.
The main drawback of hardware-mounted baby gates is the fact the fact that permanent fixtures have been drilled into your wall to secure the gates, which will need to be covered and repaired once the baby gates are no in use. One other drawback is that hard-mounted baby gates cannot be packed up and transported should you need them in another room of your home, or another location.
Those drawbacks are minimal compared to the extra safety and security that they provide.
We recommend hardware-mounted gates for the most hazard-prone areas of your home, such as around fireplaces and at the top a staircase.
See an example of a hardware-mounted baby gate that can be found on Amazon below.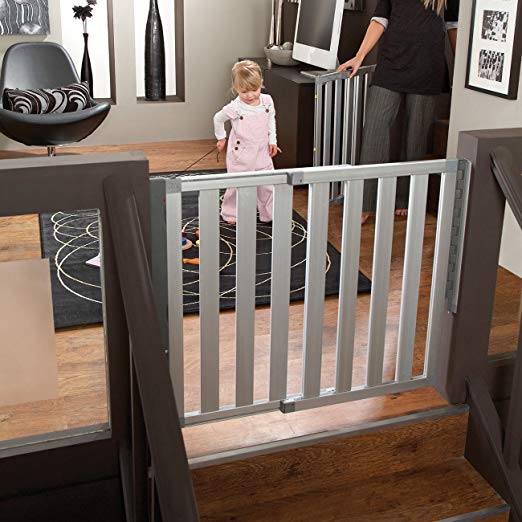 MUNCHKIN LOFT ALUMINIUM MOUNTED BABY GATES
DESCRIPTION:
WHY WE LIKE THEM:
Allows for quick and easy width adjustments with pre-set positions.

Tuning System adjusts for a perfect vertical fit even when walls aren't level.

Door swings open in both directions.

Sleek, modern aluminum styling
BUY ON AMAZON
VIEW MORE BABY GATES
---
FREESTANDING BABY GATES
Freestanding baby gates stay upright on their own without the need for mounting.
All you need to do is push the gate into position, and you're all set with a temporary safety barrier that is effective for areas where safety is needed.
There is no need for screws or drilling, and you don't have to fiddle with a tension rod between two walls as you would with a pressure-mounted baby gate.
Freestanding baby gates are perfect for moving around the home, keeping your child safe, secluded and in site where necessary. They are also ideal for keeping pets away from your child or guests.
An example of a freestanding baby gate available on Amazon can be seen below.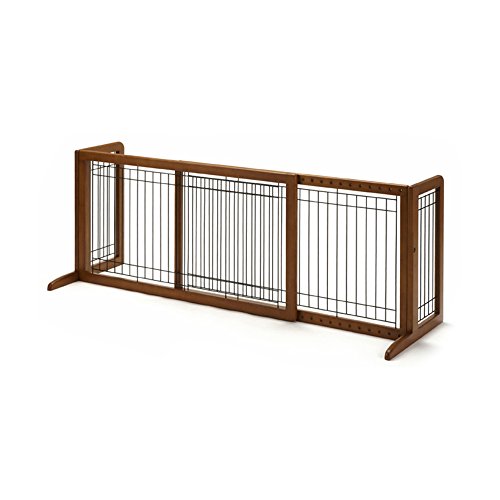 FREESTANDING BABY GATE
DESCRIPTION:
WHY WE LIKE THEM:
Able to be moved around the home as needed.
No screws, drilling or permanent mounting necessary.
Perfect for babies, toddlers and small dogs.
One of the best reviewed and freestanding baby gates on Amazon.
BUY ON AMAZON
VIEW MORE BABY GATES
---
WHAT TO CONSIDER WHEN BUYING BABY GATES
HEIGHT & WIDTH
When shopping around for a baby gate, they most important thing you'll need to know are the height and width that you need.
Standard baby gates are generally around 30 inches tall and anywhere from 29 to 45 inches in width. Standard interior doorways usually measure from 24 to 36 inches wide, with the most common around 28- to 32-inches wide.
Some extra-wide baby gates can stretch six feet from left to right. But that's not all. Through the course of our research, we actually found a gate that can stretch 192 inches across.
Baby gates of this length can also be configured as an enclosed pen, where you child can play safely within sight in the own space.
Once your little one grows to around 36 inches in height, a baby gate of the usual height may become to low to contain them. However, should you want to continue using a baby gate past this stage, there are options available. It's easy enough to find extra-tall baby gates on sites like Amazon that will suit your needs.
SLAT SPACING
The majority of baby gates have vertical slats, which can cause an issue if they are too far apart, and also too close so that the supervisor cannot see the child. If the slats are too wide a child could potentially escape, or in a worse scenario, lodge their head between two slats and suffer bruising or even suffocation. We strongly encourage all shoppers to pay attention to the spacing between each slat, which in our opinion should be no more than three inches.
LATCHES
Many baby gates have dual-action latches that you must be pushed down in order release the latch and open the gate. Other types of latches include those with pressure-release handles and also those with squeezing mechanisms. We recommend that you test a few different latch types to determine which type works best for you. You can do this at a friend's home or in a shop. The latch should be easy for you to open, but difficult for your child to figure out.
SELF-CLOSING BABY GATES
There are many baby gates that are made to close automatically when you release them. There's no need to physically shut the gate yourself, which adds an extra level of insurance for those times that you are very busy and have have other things in your hands. This hands-free auto-closing baby gate feature is one that we recommend where possible.
VIEW MORE BABY GATES
---
BABY GATE MATERIALS
When choosing a material, there are generally four options. Metal, wood, plastic and mesh.
Metal baby gates are generally considered to be more durable than wood and plastic. The drawback is that they tend to be heavier, and are less suitable for instances where a mobile baby gate is necessary.
Wooden baby gates are generally lightweight and strong, however are considered to wear a little faster than plastic or metal. Since babies explore much of the world with their fingers and mouths, make sure the wood on your gate is sanded down and the edges rounded to avoid the chance of splinters. Wooden baby gates are not recommended for use outside.
Mesh baby gates are easy to be stowed away and carried around to other areas. If you're worried that a mesh gate that you are considering may not be as safe as metal, plastic, or wood, make sure that it has been certified by the Juvenile Products Manufacturers Association (JPMA).
Plastic baby gates are generally lightweight and are quite versatile, being able to be used as indoor and outdoor play pens also.
VIEW MORE BABY GATES
---
WHERE WILL YOUR BABY GATE GO?
Different types of baby gates are suitable for different areas of your home, so before you lay down your hard earned money, assess which type of baby gate you will need for the location that you intend to use it.
Baby gates are most commonly placed in doorways, at the top and bottom of stairs and in outdoors (generally as play pens for your child).
Freestanding gates must be able to reliably stand on their own. These are most commonly used as extra long baby gates to be placed around fire-places, and used outside as play pens.
Baby gates that intended to be installed at the top of the stairs are needed to be extra-strong and sturdy. If you need baby gate for your stairs, a hardware-mounted gate will provide the best protection.
Baby gates that are to be used in high-traffic areas like kitchens and living-rooms may need to be moved often. If you are placing your gate in a high traffic area, consider a pressure-mounted gate that can be easily installed and taken down as necessary.
VIEW MORE BABY GATES
---
BABY GATE SAFETY TIPS
Baby gates add a form of safety and security around the home, but should never take the place of proper adult supervision.
They should only compliment what you're already doing, which is protecting your child one from potential hazards and more potentially dangerous areas of your home.
It's vitally important to install your baby gate according to the manufacturers instructions so as to minimize the risks of a faulty gate.
OTHER TIPS INCLUDE;
When installing a hardware-mounted gate at the top of the stairs, ensure that the gate swings away from the stairs, not toward them.
Always keep the baby gate closed and make sure to remind others to close the gate as they pass through.
When installing pressure-mounted gates, install the gate with the pressure bar side on the opposite child of where your baby is enclosed. This removes the potential of the child climbing over the gate.
Regardless of the quality of the gate and the installation, all baby gates have the potential to loosen over time, and therefore becoming less secure and effective. Inspect your gates regularly to make sure that they are still fixed correctly, and secure. Tighten fixtures and make other corrections as required.
Any gate that you are considering purchasing should come with a seal from the JPMA to ensure they meet safety requirements. These minimal safety requirements are in regard to the gate's height, the space between the floor and the bottom of gate, the distance between slats, the safety of the latches and locks, and the overall strength and effectiveness.
Always inspect to make sure that the safety of your baby gate has been endorsed by the Juvenile Products Manufacturers Association, or JPMA.
VIEW MORE BABY GATES
---
FAQ
Q: Which type of gate should I get if I don't want to drill holes in my walls?
A: Hardware-mounted baby gate requires you to drill holes for permanent installation. Buy a pressure-mounted gate for use in other areas of your home as they require no screws or other tools for installation. (Unless you are installing at the top of your stairs, then we recommend hardware-mounted baby gates).
Q: Can I stop pressure-mounted gates from leaving marks on my walls?
A: Some gate manufacturers have made products that stop pressure-mounted gates from leaving rubber marks on walls, similar to furniture sliders with grip. Safety Innovations sell "Wall Saver" products for this very reason.
Q: Can I use my baby gate for my pets also?
Yes, baby gates are very commonly used to stop pets from entering certain areas of the home, and also for keeping them locked away at times when guests are over, or when your child or yourself requires some quiet time.
Q: Are all safety gates safe for use at the top of the stairs?
A: No. It's strongly recommended to buy a hardware-mounted gate when intended to be installed at the top or bottom of stairs. Hardware-mounted baby gates are screwed into place, for a more secure fit.
VIEW MORE BABY GATES